Tim Kemmis Ph.D., P.G.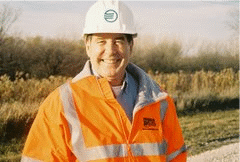 Tim Kemmis received his bachelorís degree in agricultural soil science from the University of Illinois and his masterís degree in glacial geology while working as a graduate assistant at the Illinois State Geological Survey.



He worked 14 years for the Iowa Geological Survey, during which he received his Ph.D., and where he:
Carried out glacial sedimentologic investigations
Remapped the Des Moines Glacial lobe
Established the formal glacial stratigraphy for the lobe based on depositional environments
Discovered a new type of hummocky glacial topography
Determined the geometry and origin of jointing in glacial tills
Developed a lithofacies code to decipher the history of glacial outwash and alluvial sequences
For most of the time since 1992, Tim has worked as a senior geologist consultant and project manager for large-scale hydrogeologic investigations. His unique experience as both an applied researcher and consultant has allows Tim to effectively unravel sedimentary complexities coupled with his personal ability to teach these concepts to all staff levels.