Kelsey MacCormack, PhD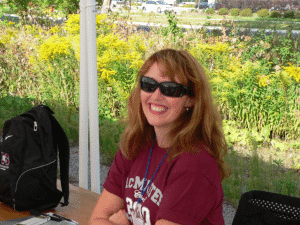 Kelsey MacCormack received an M.Sc. degree in geology from McMaster University in 2005 studying 3D modelling of quaternary sediments. In 2010, she completed a Ph.D. in the statistical analysis and uncertainty quantification of 3D modelling techniques, and developed algorithms to integrate data of variable quality during the interpolation process. This research led to the development of improved geological modeling protocols to enhance the accuracy and reliability of subsurface models for both geological and hydrogeological applications.

Kelsey is currently a post-doctoral fellow at the University of Guelph developing innovative techniques to optimize data used to interpolate 3D and 4D models investigating sustainable bedrock water supplies for Ontario communities. Her research interests include developing enhanced algorithms designed to optimize high quality data during interpolation resulting in increased model accuracy and reduced uncertainty, as well as extending current 3D and 4D models into 5D incorporating uncertainty information. Developing 5D modelling methods will help people to understand the uncertainty in the model results and will ultimately assist professionals and policy makers to make more informed decisions.

Due to her work on both geological and hydrogeological site characterizations, Kelsey has been asked to serve on advisory boards for the Hamilton Conservation Authority Water Resource Inventory Project, and the Mid-Spencer/Greensville Subwatershed Study.
Members Login
Become A Member
It's Free, It's Easy and as a
Member you'll enjoy...
Exclusive Videos
Special Pricing
And Much More
Join
Learn More