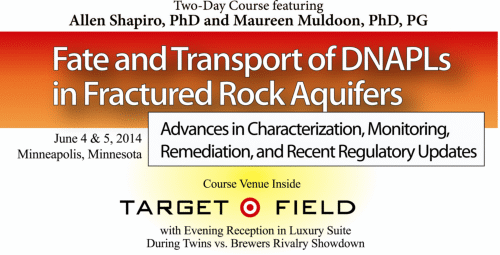 Dates and Location:
04 & 05 June, 2014 (Wednesday and Thursday)
8am to 5pm, both days

TARGET FIELD
Minneapolis, Minnesota



Reception:
Target Field, Luxury Suite
June 4, 2014 (5:30pm to game completion)
Major League Baseball Game between Twins and their rivals: Milwaukee Brewers.


Sponsorship Opportunities:
Contact: Dan Kelleher
Phone: 763.607.0092
Who should attend:
This intermediate to advanced course is designed for ground water scientists and engineers, project managers, compliance managers in the private, public and regulatory sectors An fundamental understanding of ground water movement, fractured bedrock and DNAPL properties are considered as a prerequisite for this course. It will focus on recently developed remediation concepts and emerging technology.

Continuing Education Information:
1.6 Continuing Education Units (CEUs)
(16.0 Professional Development Hours)
Introduction:
The hydrogeologic complexity of fractured rock aquifers often leads frustration and the significant expenditure of resources in characterizing groundwater contamination and evaluating and designing effective remediation strategies.

It is not uncommon to experience persistent contamination at fractured rock sites that have been subject to long term pumping and treatment. New remedies and site closure strategies are on the horizon and this 2-day course provides a clear view of these future methodologies.

This 2-day course begins with recent updates about delineation of groundwater contamination in fractured rock aquifers through the synthesis of hydrogeologic and biogeochemical information. Although geomechanical and hydrologic conditions of each fractured rock site are unique, this course highlights the common attributes that are to be anticipated in all fractured rock sites.

Indeed, each fractured rock site will have unique characteristics, where for example, the presence or absence of an individual fracture may greatly affect the extent of contamination. Anticipating such conditions, however, provides a framework and a pathway for choosing characterization technology and formulating and testing hypotheses to arrive at a defensible site conceptual understanding and the evaluation of remediation technologies.

This course will also focus on the fate, transport, and remediation of Dense Non-Aqueous Phase Liquids (DNAPLs) in the groundwater of fractured rock. The delineation and remediation of groundwater contaminated with free- and dissolved-phase DNAPLs is a recalcitrant problem facing the Nation. Properties of various types of DNAPLs, in many instances, have led to their detection at significant depths below the groundwater table, which has resulted in the contamination of fractured rock aquifers underlying many industrial and federal facilities.

This course addresses the factors that affect the spatial distribution and longevity of free- and dissolved phase DNAPL contamination in fractured rock aquifers along with a review of current remediation technologies and strategies. Also included in this discussion is a review of approaches that are permitted by regulation in achieving long-term remedial objectives that are protective of human health and the environment. The technical limitations of groundwater remediation in fractured rock, as well as concerns associated with cost, make it necessary to consider a full array of regulatory endpoints in defining remedial objectives.

Highlights of this course include
Understanding the scope of DNAPL contamination in complex geologic settings
Complexities of various types of fractured rock aquifers
Common attributes of fractured rock aquifers that guide characterization and evaluation of groundwater remediation technologies
Physical, chemical, and biological processes controlling the fate and transport of DNAPLs in fractured rock
Geologic, geophysical, hydraulic, and biogeochemical methods of characterizing groundwater flow and chemical transport in fractured rock
Methods of completing boreholes and monitoring groundwater chemistry
Evaluation of common groundwater remediation technologies applied in fractured rock
Regulatory issues and constraints in moving from contaminant discovery to proposing remedial actions in complex geologic settings
Course participants will technically benefit by
Understanding critical steps in synthesizing hydrogeologic and biogeochemical data to develop defensible conceptual models of groundwater flow and chemical transport
Recognizing the physical and biogeochemical factors leading to cases of persistent, long-term groundwater contamination in fractured rock
Recognizing the limitations of remediation technologies in their application to fractured rock aquifers
Reviewing and critiquing case studies of characterization and remediation
Summaries of technologies, articles, and other key resources pertinent to the hydrogeologic characterization of fractured rock and the fate and transport of free- and dissolved-phase DNAPLs
Registration Information:
Advanced registration is necessary for participation in this limited-enrollment short course. Pre-registration is required to reserve space and receive course materials. A minimum of 25 people must be registered at the early registration deadline to conduct any short course (this course normally reaches maximum capacity). Visitors will not be permitted to participate during the field workshops or enter the workshop areas. If you require special arrangements for diet, equipment, or handicap facilities, please indicate when registering for the course.

What you will receive:
You will receive 16.0 contact hours of instruction. The course includes a comprehensive 400-page workshop notebook containing written lessons and copies of the slides of each course segment, a Field Guide for Rock Core Logging and Fracture Analysis, a Field Guide for Slug Testing, plus one ticket to the Reception. The course also includes morning coffee, lunch and afternoon break each day. A course completion certificate showing 1.6 Continuing Education Units (CEUs) will be administered for the course. Participants are welcome and encouraged to take photos during the field exercises.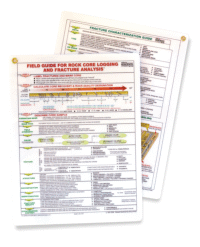 FIELD GUIDE FOR ROCK CORE LOGGING AND FRACTURE ANALYSIS is included in your course registration.

Additional copies available at a discounted price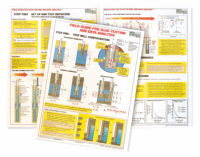 FIELD GUIDE FOR SLUG TESTING is included in your course registration.

Additional copies available at a discounted price




Cancellations:
Cancellations may be made up to two weeks before the course, however, 25 percent of the course fee will be charged. No refunds. One substitute is permitted for each registration who is unable to attend. Cancellations made after two weeks before the course will be charged $500.

Rate:
Register Now: $649 (USD)
Register after 23 May 2014: $980 (USD)

Online Registration Multiple-Person Discount: Register Four, Get the Fifth Free.

Be a course sponsor for only $500 more.
Add Webinar Promotion for only $300 more.

Sponsor Benefits
All Access to the Course as an Course Participant, plus
Listed in Email Announcements, circulated globally
Trade Show booth allowable (while space lasts)
TARGET FIELD SCOREBOARD COMPANY LOGO DISPLAY during 4th Inning.
(professional photos of your logo displayed in Target Field (Capacity 39,000 seats))
Website Banner Promotional Credits
Online Webinar Promotion (additional option)
Government discounts available, please inquire at 763.607.0092. Student discounts are available for students with full-time enrollment verification.
Dr. Allen Shapiro has authored numerous papers on field investigations in karst and various types of fractured rock aquifers, as well as being active in the development of methods of quantifying properties that govern groundwater flow and chemical transport in fractured rock aquifers. Dr. Shapiro has also patented equipment used to conduct aquifer tests and monitor groundwater chemistry in fractured rock.

Dr. Shapiro is a Senior Research Hydrologist with the National Research Program (NRP) of the U.S. Geological Survey (USGS). His research has focused on the development of field techniques and equipment, and methods of integrating and interpreting geologic, geophysical, hydraulic, and geochemical information in the characterization of fractured rock aquifers. Dr. Shapiro has described fundamental processes of ground water flow and chemical transport that are unique to geologic environments characterized by significant heterogeneity. He has also investigated the effect of scale on the hydraulic and transport properties of fractured rock through carefully designed field testing and modeling investigations conducted over physical dimensions of meters to kilometers. Dr. Shapiro is currently active in the characterization and remediation of various contaminants in fractured rock, including groundwater contamination by Dense Non-Aqueous Phase Liquids (DNAPLs).

Dr. Shapiro was the 2004 National Ground Water Association (NGWA) Distinguished Darcy Lecture and is an associate editor of the journal Ground Water, and he holds a Ph.D. from Princeton University in Civil and Geological Engineering.


Maureen Muldoon, PhD is internationally-recognized for her applied hydrogeologic work in ground water characterization in fractured rock settings. She is an Assistant Professor at the University of Wisconsin Oshkosh with ongoing research in ground water quality and flow in carbonate rocks, relationship between carbonate stratigraphy and hydraulic properties, and delineation of wellhead protection zones in fractured rock. Maureen was awarded the recipient of the Standards Development Award for her preparation of ASTM D5715 -95 Standard Guide for Design of Ground-Water Monitoring Systems in Karst and Fractured-Rock Aquifers.



---
Course Location:
TARGET FIELD
1 TWINS WAY
MINNEAPOLIS, MINNESOTA 55403

http://minnesota.twins.mlb.com/min/ballpark/index.jsp
Transportation:
LOCATED IN THE HISTORIC WAREHOUSE DISTRICT OF DOWNTOWN MINNEAPOLIS, TARGET FIELD IS THE MOST MULTI-MODAL, TRANSIT-ORIENTED BALLPARK IN AMERICA. (WALK FROM NEARBY HOTELS, DRIVE, RIDE THE TRAIN)

CLICK WEBLINK BELOW FOR COMPLETE DETAILS:
http://minnesota.twins.mlb.com/min/ballpark/transportation/index.jsp
Parking:
THERE ARE MANY, MANY PARKING OPTIONS NEAR THE BALLPARK INCLUDING 7,000 PARKING SPACES CONVENIENTLY ADJACENT TO TARGET FIELD IN THE ABC AND HAWTHORNE RAMPS.

CLICK WEBLINK BELOW FOR COMPLETE DETAILS:
http://mlb.mlb.com/min/ballpark/transportation/index.jsp?content=parking_downtown
Reception Details:
WEDNESDAY 04 JUNE 2014
MINNESOTA TWINS VS MILWAUKEE BREWERS BASEBALL GAME
RECEPTION OPENS IMMEDIATELY FOLLOWING THE END OF DAY ONE COURSE SCHEDULE; GAME TIME IS 7:10PM

BALLPARK TOUR INCLUDED (DATE AND TIME TBD)
ADDITIONAL GUESTS MAY PURCHASE TICKET SUBJECT TO AVAILABILITY
CALL DAN KELLEHER FOR ADDITIONAL TICKET PURCHASE WAITING LIST
PHONE: 763.607.0092
Accomodations:
OFFICIAL HOTEL OF MIDWEST GEOSCIENCES GROUP

CROWNE PLAZA MINNEAPOLIS NORTHSTAR - DOWNTOWN
618 Second Avenue South
Minneapolis, MN 55402
Phone: 612.338.2288 or 877.834.3613

RATES: $205/NIGHT PLUS TAX
GROUP CODE: "GEO"

CLICK HERE for reservations and hotel details.



---


Graves 601 Hotel
http://www.graves601hotel.com/
Sophisticated Modern Luxury describes the Graves 601 Hotel Minneapolis. Located at the confluence of business, theatre and entertainment districts in the heart of downtown Minneapolis giving you plenty of options while visiting the city. Standing directly across the street from the Target Center and Target Field, the hotel is connected by Skyway to the entire shopping and business district.

Minneapolis Marriott City Center
http://www.marriott.com/hotels/travel/mspcc-minneapolis-marriott-city-center
Experience style and service at the Minneapolis Marriott City Center, just 2 blocks from Target Field in the heart of downtown Minneapolis. Connected to Macy's via skywalk access, one block from Gavidae Commons, half-block from the Nicollet Mall, and adjacent to City Center Shops, the Minneapolis Marriott City Center is ideal for walking to Target Field.

Hyatt Regency Minneapolis
http://www.minneapolis.hyatt.com/en/hotel/home.html
Perfectly situated on Nicollet Mall in downtown Minneapolis, guests will enjoy a striking new lobby, luxurious new guestrooms and suites and a brand new restaurant and market place. Oversized and luxurious guestrooms offer exhilarating views of the skyline while providing modern amenities and plush comfort.
Members Login
Become A Member
It's Free, It's Easy and as a
Member you'll enjoy...
Exclusive Videos
Special Pricing
And Much More
Join
Learn More