On-Demand Webinars
ARSENIC IN GROUND WATER: Part 1:
Arsenic Geochemistry: Demystifying the Complexities and "Conventional Wisdom"
This 90-minute webinar addresses arsenic geochemistry, occurrence and mobility in ground water. Part 1 of this 2-part series focuses on biogeochemical conditions that cause solid-phase arsenic to become dissolved or mobile in groundwater systems. Part 1 of this 2-part series reinforces key elements of arsenic geochemistry, presenting background information sufficient to demistify common, but complex, mobility and transport issues. This approach demystifies topics we hold as "conventional wisdom".

Despite recent research on this subject, the complex literature on the toxicity and mobility of arsenic in groundwater is not well understood. For example, arsenic-rich sulfide minerals can release soluble arsenic to groundwater under oxidizing conditions. In contrast, arsenic sorbed to, or incorporated into, the mineral structure of metal-(hydr)oxide minerals are a potential source of arsenic to groundwater in reducing environments. Geochemical conditions may be temporally and spatially variable within a hydrogeologic system, impacting arsenic mobility and affecting the distribution of arsenic in groundwater and in wells.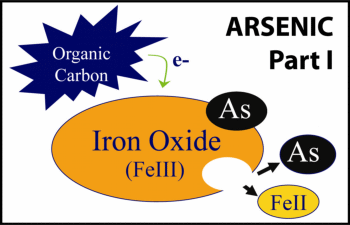 This series of webinars is designed for professionals working in the fields of environmental consulting, site remediation, groundwater investigations, water quality issues, and brown fields developments. Regulators, consultants, engineers and hydrogeologists will appreciate the real-world examples and complex conditions that are characterized and explained with interpretations of familiar types of data and basic geochemical principles.
TOPICS FOR PART ONE:
Sources and distribution of naturally-occurring arsenic in the environment
Basic Arsenic geochemistry
Mechanisms of arsenic release in groundwater
YOU WILL BENEFIT FROM THIS TWO-PART WEBINAR SERIES BY:
Discovering important but sometimes hidden naturally-occurring and man-made sources of arsenic.
Learning to look for common arsenic-bearing minerals, rocks and sediment considering spatial variability of arsenic in geologic materials.
Learn basic Arsenic geochemistry and some advanced geochemical concepts.
Understanding arsenic speciation and organic and inorganic forms.
Learn how microbiological transformations of arsenic play an important role in Arsenic occurrence.
Gain insight from comprehensive, real-life examples illustrating geochemistry of arsenic release and mobility.
---
Instructor Bios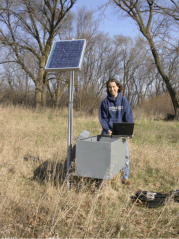 Madeline Gotkowitz
Hydrogeologist, Wisconsin Geological and Natural History Survey
Professor, University of Wisconsin – Extension

Madeline Gotkowitz is a research scientist at the Wisconsin Geological and Natural History Survey, where her work focuses on regional groundwater flow and transport modeling, subsurface fate and transport of human enteric viruses, and flow and transport across aquitards. Gotkowitz's field-based investigations of arsenic in groundwater address conditions in surficial and bedrock aquifers, and the affect of well disinfection on arsenic release. Gotkowitz holds a B.A. in Environmental Sciences from Smith College and an M.S. in Hydrology from New Mexico Institute of Mining and Technology.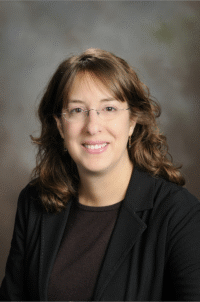 Madeline Schreiber
Associate Professor, Geosciences
Virginia Tech University

Madeline Schreiber's research in chemical hydrogeology involves analysis and quantification of chemical and biological processes that impact contaminant transport. Over the past 10 years, Schreiber and her students have focused on biotransformation of both organic and inorganic species by subsurface microorganisms, adsorption of arsenic species (organic and inorganic) to subsurface materials, and release of trace elements from minerals during oxidative and reductive dissolution. Her work has been funded by the National Science Foundation, the U.S. Department of Agriculture, the National Institutes for Water Research, and private foundations. Schreiber received PhD and MS degrees from the University of Wisconsin-Madison and a BS degree from Yale University.
---
Fee:
299.00 USD Per Webinar


Downloads:
Session Slides (PDF)
Record of Attendance Form (PDF)


Number of Participants:
Unlimited from a single computer (Broadcast webinar in your conference room or auditorium for no extra charge)


Continuing Education Certificates:
Unlimited. $14.95 each. Official CEU certificates are available as an option and only available at the time of webinar participation from Northern Illinois University. Ordering steps are given at time of webinar order.


Access:
On-demand, anytime 24/7.
Access Duration:
24 hours.


Discounts:
Buy 3 on-demand webinars, and get 3 on-demand webinars for free!


Duration:
90 minutes
PDH Earned:
1.5 hours
Instructor(s):
Madeline Gotkowitz, PG. and Madeline Schreiber, PhD.

You must be a member to order an On-Demand Webinar!
Please 'Login' or 'Join' Now.


---
Members Login
Become A Member
It's Free, It's Easy and as a
Member you'll enjoy...
Exclusive Videos
Special Pricing
And Much More
Join
Learn More