---
---
Discover the Possibilities.....
...and the Potential Risks
Discover the new frontier about drones for the environmental and engineering industry. More appropriately called small Unmanned Aircraft Systems (sUAS), drones are becoming a commercial enterprise for geophysical, geoscientific and engineering companies.

Drone Technology

Drone design is virtually limitless. The wide variability of type and size allows for a wide spectrum of applications. Learn about the drone design and different manufacturers and service providers. And more importantly, discover the pros and cons for geoscientific and engineering applications.
If you are considering using drones for your business,
you do not want to miss this webinar series.
Drone Applications

Drones are being used for geological and topographic mapping, coastal inspection, hillslope assessment, disaster damage assessment, water resource mapping, extracted resource and construction asset management, infrastructure corridor surveys, vertical structure inspections, and precision agriculture.

Geophysical applications are growing quickly too. Drones equipped with magnetic, electromagnetic, infrared, ground penetrating radar, and natural gamma ray sensors have several advantages over conventional airborne geophysics including higher resolution and improved location accuracy at a reduced risk to field personnel and, in many cases, at much lower cost.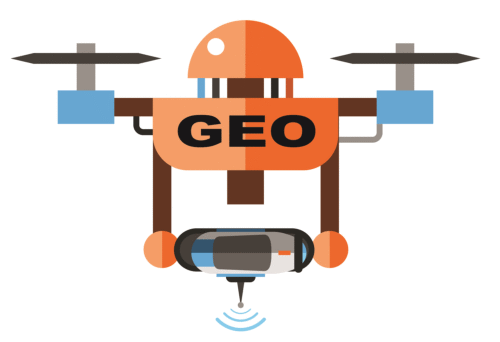 Drone Regulations

Hobbyists are not regulated in the same way as businesses. Businesses are regulated according to Federal Aviation Administration rules. The legal elements for using drones in a business vary depending on a spectrum of factors. Liability Insurance and risk management is a critical component for businesses.

Despite the excitement about this new frontier with big potential,
it also includes unique regulatory restrictions and liabilities
for businesses.
Commercial drone business is poised to soar. If you are considering incorporating drones into your business or hiring a drone operator for a project, there are virtually limitless choices. This webinar series provides list of resources about drone access and service providers.
Register now and launch your knowledge about the possibilities.
---
Duration:
1 hour plus unlimited Q&A each part
Pricing:
$99 per webinar for the Webinar Series ($495 for the series)
$249 for one webinar
---
---
DRONES FOR GEOSCIENTIFIC AND ENGINEERING DATA ACQUISITION:
Part 1: Getting Started in a New Frontier with Big Potential
by Ron Bell, President & Consulting Geophysicist, Aerobotic Geophysical Systems, LLC
Part 2: Low Altitude Photogrammetry and Remote Sensing
by Ron Bell, President & Consulting Geophysicist, Aerobotic Geophysical Systems, LLC
Part 3: Geological Mapping, Land Surveying, and other Applications
by Ron Bell, President & Consulting Geophysicist, Aerobotic Geophysical Systems, LLC
Part 4: Legal Aspects, Insurance, Liability and Privacy Rights
by Tom Gemmell, JD, Partner and Co-Lead, Husch Blackwell, LLP UAS Team
Part 5: Drone's Eye View of Technology, Application and Restrictions
by Jason Caldwell, Vice President, Sanborn Map Company, Inc.
---
SCHEDULING CONFLICT?
here's an option for you
---
As with All of our Webinars...

Pay one site registration fee and an unlimited number of participants from your organization can attend at that site.

A Record of Attendance Form is included free with each webinar for your record keeping and PDH verification. Attendees may also order official a Course Completion Certificate from Northern Illinois University to confirm your attendance and showcase on your office wall. Instructions for ordering certificates are given during the webinar.



---