PUMPING TESTS FOR AQUIFER EVALUATION: Part 1:
Some Practical Guidelines to Get More from Your Test Data
Part One of a Comprehensive 4-Part Webinar Series on Aquifer Pumping Tests
This 90 minute webinar is designed to give consulting scientists and engineers and regulators the information they need to get reliable information from pumping tests.

Pumping tests are commonly used at sites for acquiring information about the transmissive properties and hydraulic boundary conditions of subsurface units. Unfortunately, much of the information currently obtained from pumping tests is of questionable quality as a result of inappropriate field and analysis procedures.

Webinar attendees will learn practical guidelines that they can apply immediately to their work to significantly improve the quality of parameter estimates obtained from pumping tests.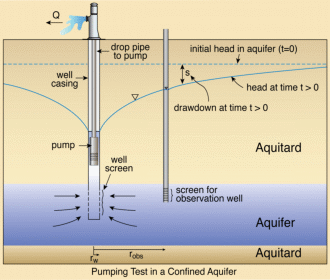 Jim's work is widely recognized by the academic, consulting, and regulatory communities as having led to significant advances in the state of the practice for both slug testing and pumping tests.

Part 1 Webinar Outline and Highlights:
Purpose

in-situ estimation of large-scale hydraulic properties

transmissivity (T) and storativity (S)

hydraulic boundaries
directional dependence
conditions at pumping well

Mechanics

pump well to produce change in water level (head)
measure change (drawdown) at pumped and nearby wells
analyze drawdown measurements

General Design Guidelines

Overall Goal
Assess primary mechanisms

Confidence in T and S estimates

Key Elements

Location of observation wells
Pumping rate and duration

Monitoring period
Non-ideal conditions

Overview of Analysis Methods
Resources and Reference
Whether you want to apply aquifer pumping tests to hydrogeologic characterization, water supply development or remediation design, this webinar will provide attendees with information that is not available elsewhere on the web.
Here's what people are saying about Jim's past webinar:
"... I was able to see right away how Jim Butler's guidelines improve the efficiency and confidence in hydraulic conductivity test results. The presentation's clear graphics and on-site examples made this a practical learning experience, and I will certainly be able to implement these ideas both in the field and in analysis".
-Rachel McLean, AMEC Earth & Environmental
---
Instructor Bios
Jim Butler is author of many scientific papers and the popular book "The Design, Performance, and Analysis of Slug Tests," which is widely recognized as the key reference for slug testing.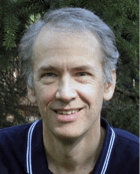 Jim was the 2007 National Ground Water Association Distinguished Darcy Lecturer and the recipient of the 2009 Pioneers in Groundwater Award from the Environmental and Water Resources Institute of the American Society of Civil Engineers.

Jim's research includes aquifer testing, direct push hydraulic profiling, groundwater use by phreatophytes, and interactions between surface water and groundwater. Jim holds a B.S. in geology from the College of William and Mary, and M.S. and Ph.D. degrees in applied hydrogeology from Stanford University.

For the last 23 years, he has worked as an applied research hydrogeologist at the Kansas Geological Survey at the University of Kansas and is now the Section Chief of the Geohydrology Section there. He also is an Associate of the Center for East Asian Studies at the University of Kansas, a courtesy faculty member of the University of Kansas Department of Geology, and associate editor of "Hydrological Sciences Journal" and "Ground Water."
---
Fee:
299.00 USD Per Webinar


Downloads:
Session Slides (PDF)
Additional Materials

Butler GW 1990 reprint


Butler et al Barometric response paper web published version


Butler and Healey GW 1998


Butler 2009 Technical Commentary in Ground Water



Record of Attendance Form (PDF)


Number of Participants:
Unlimited from a single computer (Broadcast webinar in your conference room or auditorium for no extra charge)


Continuing Education Certificates:
Unlimited. $14.95 each. Official CEU certificates are available as an option and only available at the time of webinar participation from Northern Illinois University. Ordering steps are given at time of webinar order.


Access:
On-demand, anytime 24/7.
Access Duration:
24 hours.


Discounts:
Buy 3 on-demand webinars, and get 3 on-demand webinars for free!


Duration:
90 minutes
PDH Earned:
1.5 hours
MA LSP:
1.5 hours (MA LSP No. 1417-G)
Instructor(s):
Jim Butler, PhD.
Section Chief at the Kansas Geological Survey and author of "The Design, Performance, and Analysis of Slug Tests," which is widely recognized as the key reference for slug testing.

You must be a member to order an On-Demand Webinar!
Please 'Login' or 'Join' Now.


---